BLOGS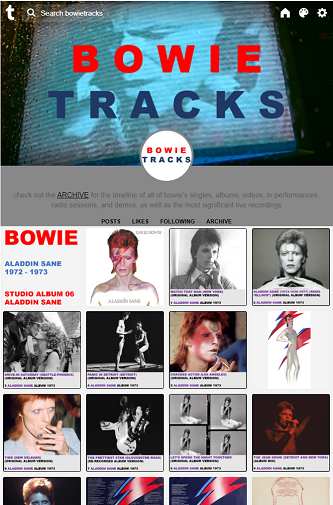 Bowie Tracks (2017 – present)
This Tumblr blog was created in order to explore every Bowie track in the order of release from his debut in the beat and mod groups of the early 1960s through his rise to fame in the 70s to the artist's death in 2016 and beyond…
The idea is to create a timeline flow of every track from every demo, single, album, and video.
So far I have covered 1963 to the early 1970s, and am slowly prgressing through the glam rock years, while also returning to fill in anything I may have missed as new retrospective releases of demos and lost tracks are released from – or escape – the archives…
Visit David Deamer's Bowie Tracks on Tumblr
---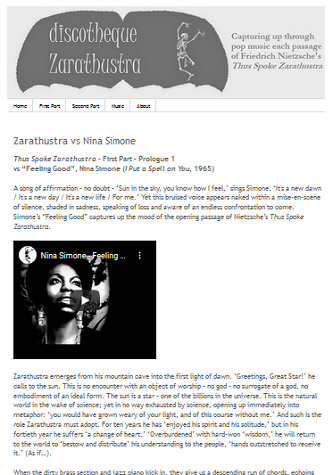 discotheque Zarathustra (2014-present)
Discotheque Zarathustra is an ongoing and occasional series of attempts to capture up through pop music the sense, moment, and movement of each passage of Friedrich Nietzsche's Thus Spoke Zarathustra.
The first of the four books of Zarathustra was completed in 2018; I then moved on to the second book the same year.
With music from everyone from Nina Simone, David Bowie, The Cult, and Kanye West – this project was probably doomed to never be completed… but that don't worry me too much…
Visit David Deamer's discotheque Zarathustra
---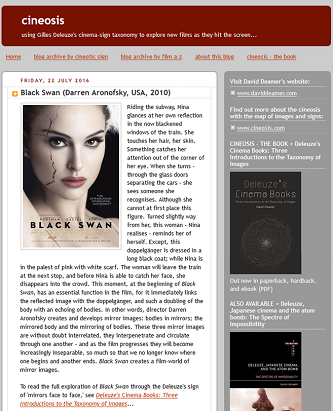 cineosis (2010 – 2016)
The cineosis blog began in mid-2010 and ended mid-2016, the idea being to popularise Gilles Deleuze's film-philosophy by affirmative explorations of cinematic releases as they hit the screens (of Manchester, UK). In due course, films encountered at special screenings, on DVD and TV snuck in. Many of the films encountered in this blog are now included in Deleuze's Cinema Books: Three Introductions to the Taxonomy of Images (as the third introduction). For the book, the films were revisited and rewritten. The original posts have been redacted from the cineosis blog; the films that did not make it into the book remain as they were.