PODCASTS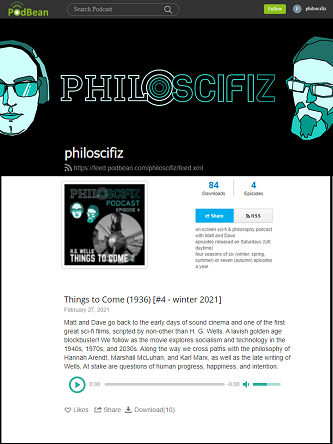 philoscifiz (2021 – present)
Philoscifiz is an on-screen sci-fi & philosophy podcast that I present alongside my good friend Dr Matthew J. Barnard (Lecturer in Philosophy, Manchester Metropolitan University).
Every episode focuses upon a movie, series, animation, or any kind of on-screen media with space adventures, alien lifeforms, time travel, utopian and dystopian worlds, apocalyptic horror, artificial intelligence, robots and cyborgs, and so on.
Nothing on-screen sci-fi is off-limits, from the very beginning of the genre up to the present day, or from anywhere in the world.
Visit philoscifiz on Podbean (also available on all cool podcasting apps)