Deleuze's Cinema Books: Three Introductions to the Taxonomy of Images (EUP, 2016)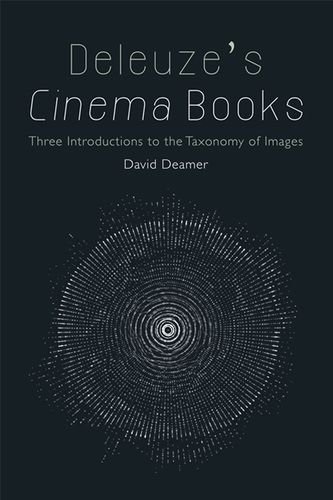 Deleuze's two Cinema books explore film through the creation of a series of philosophical concepts. Not only bewildering in number, Deleuze's writing procedures mean his exegesis is both complex and elusive.
Three questions emerge: What are the underlying principles of the taxonomy? How many concepts are there, and what do they describe? How might each be used in engaging with a film?
This book is the first to fully respond to these three questions, unearthing the philosophies inspiring Deleuze's classifications, exploring every concept and reading a film for each.
Clearly and concisely mapping the Cinema books for newcomers to Deleuzian film studies, as well as opening up new areas of enquiry for expert readers.
> An interpretation of Bergson's Matter and Memory through Deleuze's Bergsonism describing the ground of Deleuze's film-philosophy
> A reading of Peirce's semiosis from Pragmatism and Pragmaticism explicating the genesis and components of the movement-image
> An examination of Deleuze's syntheses of time, space, and consciousness from Difference and Repetition illuminating the genesis and components of the time-image
> Concise engagements with each of the cinematic signs to assist reading Deleuze's Cinema books, as well as commentaries and monographs that draw upon them
> 44 film readings – one for each cinematic sign – to clarify their application
Available from Edinburgh University Press
Reviews
This superb new book provides the most comprehensive and user friendly introduction to Deleuze's taxonomy of cinematic images to date. Deleuze's many and complex image categories are each unpacked, clearly, succinctly and with invigorating style, in relation to a wide range of extremely important films from around the world. Deamer's unique approach has the unusual capacity to make you feel amazed, once again, at the genius of Deleuze, but equally, able to think about cinema with Deleuze as though having a chat with a good friend after watching a movie.

Professor David Martin-Jones, University of Glasgow (Review for EUP)
Despite their enormous influence, Deleuze's Cinema books remain difficult and obscure for many readers. David Deamer's Three Introductions to these texts—incorporating philosophical sources, semiotic typologies, and film analyses—provide comprehensive, enlightening pathways into the conceptual background and cinematic specificities of Deleuze's film-philosophy. An impressive achievement.

Dr Robert Sinnerbrink, Macquarie University (Review for EUP)
Contra the readings of scholars who regard the organising structure of the Cinema books as disparate, non-rigorous, or vague, Deamer sets out to demonstrate how Deleuze's cineosis consitutes a systematically coherent and carefully structured taxonomy… That said, this cineosis offers a systematic coherence of a particularly Deleuzian type, or what Deamer calls a "univocal multiplicity"… Here Three Introductions abandons conventional dualistic readings of the Cinema books, in which Deleuze's two separate books and image regimes are seen to exist and operate in mutually exclusive ways. Instead, Deamer's monadic reading uncovers an overarching fluidity at the heart of Deleuze's cinema project, in which the "two regimes of the cinematic image" make up a heterogeneous multiplicity… Three Introductions offers compelling evidence that a return to the fundamentals of Deleuze's Cinema books is both a necessary and rewarding endeavour. Deamer accomplishes the enviable feat of casting a transformative light on to Deleuze's two books while remaining entirely faithful to Deleuze's own methodological sensibilities. This combination of fidelity and innovation makes Three Introductions highly recommendable to the seasoned scholar as well as to the novice. Both have much to gain from reading and (re)encountering Deleuze's Cinema books with the Three Introductions at hand.

Jacques de Villiers, University of Cape Town in Film-Philosophy, volume 21 issue 2, Page 253-257, June 2017