'Demolition Man' (1993) – episode three of the philoscifiz podcast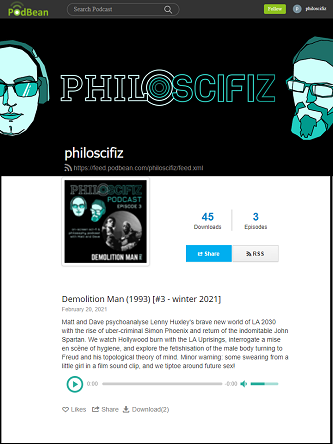 We have just released episode three of philoscifiz, an on-screen sci-fi & philosophy podcast I present along with Dr Matthew J. Barnard (Lecturer in Philosophy, Manchester Metropolitan University).
In this episode we psychoanalyse Lenny Huxley's brave new world of LA 2030 with the rise of uber-criminal Simon Phoenix and return of the indomitable John Spartan.
We watch Hollywood burn with the LA Uprisings, interrogate a mise en scène of hygiene, and explore the fetishisation of the male body turning to Freud and his topological theory of mind.
Minor warning: some swearing from a little girl in a film sound clip, and we tiptoe around future sex!
Check out the philoscifiz podcast season 1, episode 3: 'Demolition Man' (1993) at Podbean
Also available on Apple, Google, Spotify, Pocketcasts, & TuneIn + Alexa. More podcast services to be added soon!