Episode 11 of the philoscifiz podcast: eXistenZ (1999)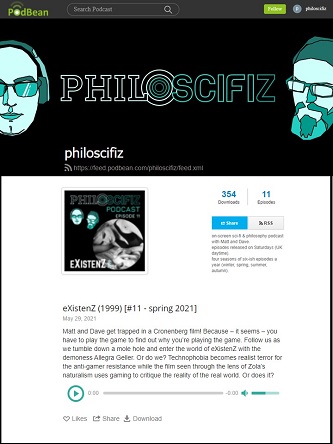 Out now – episode eleven of philoscifiz, an on-screen sci-fi & philosophy podcast I present along with Dr Matthew J. Barnard (Lecturer in Philosophy, Manchester Metropolitan University).
In this episode we get trapped in a Cronenberg film!
Because – it seems – you have to play the game to find out why you're playing the game.
Follow us as we tumble down a mole hole and enter the world of eXistenZ with the demoness Allegra Geller. Or do we?
Technophobia becomes realist terror for the anti-gamer resistance while the film seen through the lens of Zola's naturalism uses gaming to critique the reality of the real world. Or does it?
Released 29 May 2021 | 30 mins
Alternatively, listen to this episode at the philoscifiz website or all podcasting apps. And follow us on Twitter, Facebook, and LinkedIn to get notifictions of when new episodes drop.