Episode four of the philoscifiz podcast: 'Things to Come' (1936)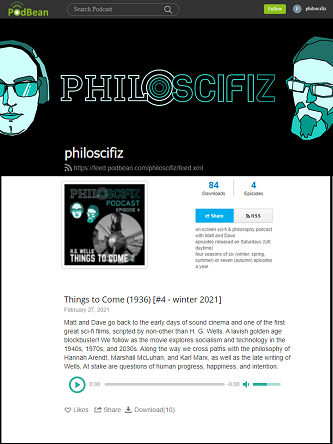 We have just released episode four of philoscifiz, an on-screen sci-fi & philosophy podcast presented by myself and Dr Matthew J. Barnard (Lecturer in Philosophy, Manchester Metropolitan University).
In this episode we go back to the early days of sound cinema and one of the first great sci-fi films, scripted by non-other than H. G. Wells. A lavish golden age blockbuster!
We follow as the movie explores socialism and technology in the 1940s, 1970s, and 2030s. Along the way we cross paths with the philosophy of Hannah Arendt, Marshall McLuhan, and Karl Marx, as well as the late writing of Wells.
At stake are questions of human progress, happiness, and intention.
Check out the philoscifiz podcast episode 4: 'Things to Come' (1936) at Podbean
Also available on Apple, Google, Spotify, Pocketcasts, & TuneIn + Alexa. More podcast services to be added soon!