Ghost in the Shell (1995) – episode 10 of the philoscifiz podcast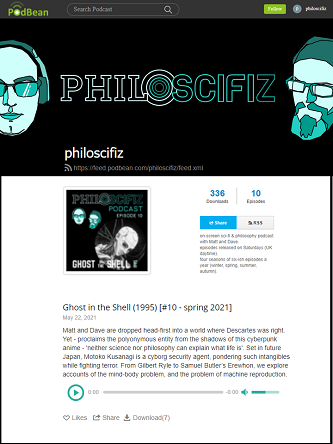 Out now, episode ten of philoscifiz, an on-screen sci-fi & philosophy podcast I present along with Dr Matthew J. Barnard (Lecturer in Philosophy, Manchester Metropolitan University).
In this episode we are dropped head-first into a world where Descartes was right|
Yet – proclaims the polyonymous entity from the shadows of this cyberpunk anime – 'neither science nor philosophy can explain what life is'.
Set in future Japan, Motoko Kusanagi is a cyborg security agent, pondering such intangibles while fighting terror.
From Gilbert Ryle to Samuel Butler's Erewhon, we explore accounts of the mind-body problem, and the problem of machine reproduction.
Released 22 May 2021 | 30 mins
Alternatively, listen to this episode at the philoscifiz website or all podcasting apps. And follow us on Twitter, Facebook, and LinkedIn to get notifictions of when new episodes drop.