Iain Key's Indie Brunch (with David Deamer) on Louder Than War Radio 14/10/2023 11am-1pm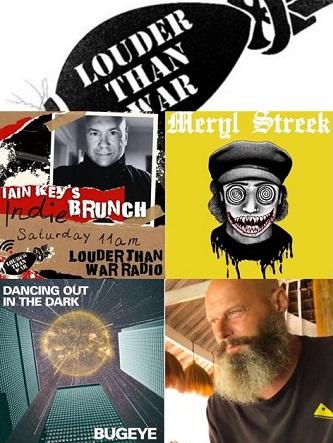 Louder Than War Radio
Saturday 14 October 2023: 11am to 1pm
Available after broadcast on Mixcloud
Imagine getting the chance to play and talk about some of your favourite tracks by some of your favourite artists and bands on a radio show?
Well, I just got the chance! Check out the next episode of Iain Key's Indie Brunch on Louder Than War Radio from 11am to 1pm on Saturday 14 October 2023.
I have been listening to Iain's show since I stumbled across it on LinkedIn over a year ago, and it keeps me up bang to date with what is happening at the cutting edge of new music.
Iain's always unique and eye-opening selection of indie bands is just brilliant, his mission centres on championing new acts, but he also plays some of the classics from the history of the genre. It's a Manchester based show – my adopted home town – so is unapologetic in focusing on music from our city and the North of England, but he will also stray further afield to ensure he captures great new artists and bands making a kerfuffle in the world of music. Just don't expect to hear the same old stuff by the same old bands.
So, it was a bit of a challenge to have to select some of my own faves for the show. My solution was to be honest and stick to my favourite bands and artists but choose tracks that maybe not so familiar but which I think are some of their best.
I will say, it was really difficult. Imagine trying to boil your world of music down to 8 tracks!!!! I spent way too much time on lists tbh. At times, it felt like Iain had cursed me! Anyhow, it is what it is. I had a lot of fun.
What Iain didn't tell me until I arrived at his studio was that this was to be his 100th show! A fantastic achievement! And a total honour to be a guest on this episode.
Louder Than War Radio website | Iain' Key's Indie Brunch Mixcloud – David Deamer