'Krull' (1983) – sixth and final episode of the winter 2021 season of the philoscifiz podcast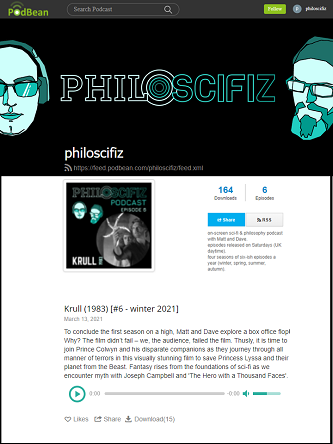 Out now, episode six of philoscifiz, an on-screen sci-fi & philosophy podcast I present along with Dr Matthew J. Barnard (Lecturer in Philosophy, Manchester Metropolitan University).
To conclude the first season on a high, we explore a box office flop! Why? The film didn't fail – we, the audience, failed the film.
Thusly, it is time to join Prince Colwyn and his disparate companions as they journey through all manner of terrors in this visually stunning film to save Princess Lyssa and their planet from the Beast.
Fantasy rises from the foundations of sci-fi as we encounter myth with Joseph Campbell and 'The Hero with a Thousand Faces'.
Alternatively, check out the philoscifiz podcast season 1, episode 6: 'Krull' (1983) at Podbean
Also available on Google Podcasts, Pocket Casts, Spotify, Apple Podcasts, TuneIn/Alexa/Echo, Amazon Music, PlayerFM… More platforms coming soon!