New season of the philoscifiz podcast kicks off with 'The Fifth Element' (1997)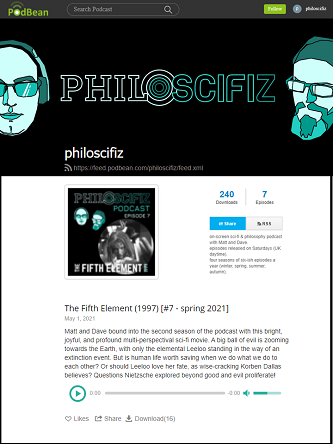 Out now, episode seven of philoscifiz, an on-screen sci-fi & philosophy podcast I present along with Dr Matthew J. Barnard (Lecturer in Philosophy, Manchester Metropolitan University).
We begin the second season of the podcast with this bright, joyful, and profound multi-perspectival sci-fi movie.
A big ball of evil is zooming towards the Earth, with only the elemental Leeloo standing in the way of an extinction event.
But is human life worth saving when we do what we do to each other? Or should Leeloo love her fate, as wise-cracking Korben Dallas believes?
Questions Nietzsche explored beyond good and evil proliferate!
Alternatively, listen to this episode at the philoscifiz website or all podcasting apps.