Out now: new season of the philoscifiz podcast kicks off with Dune (1984)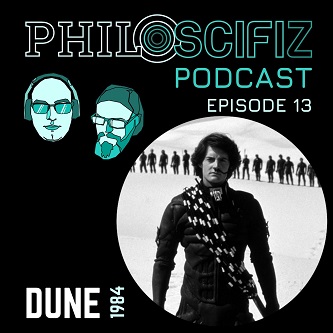 Out now – episode 13 of philoscifiz, an on-screen sci-fi & philosophy podcast I present along with Dr Matthew J. Barnard (Lecturer in Philosophy, Manchester Metropolitan University).
We are back for the third season of philoscifiz with as complex a scifi movie as is imaginable – David Lynch's Dune (1984).
The young nobleman Paul Atreides encounters his destiny on the planet Arrakis, the only source of the drug melange, aka spice.
Lynch adapts the original novel in his own way, accentuating the psychedelic enactivism and Nietzschean themes of will to power while playing with temporality and framing the story as propaganda told from the future.
Released 2 October 2021 | 48 mins
Alternatively, listen to this episode at the philoscifiz website or all podcasting apps. And follow us on Twitter, Facebook, LinkedIn, Instagram, or Tumblr to get notifictions of when new episodes drop.