philoscifiz podcast winter solstice special 2021: Johnny Mnemonic (1995)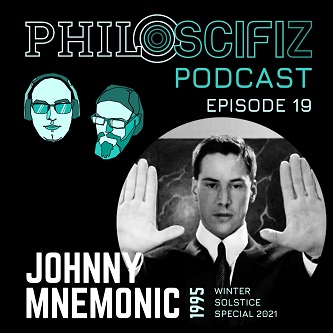 Out now – the winter special of philoscifiz, an on-screen sci-fi & philosophy podcast I present along with Dr Matthew J. Barnard (Lecturer in Philosophy, Manchester Metropolitan University).
Join us for a last chance to explore 2021 via 1995 in 2021: : 'Johnny Mnemonic'.
Based on a William Gibson short story and script, this genre defining cyberpunk noir is a prescient foretelling of a global pandemic, information wars, and the internet/metaverse.
At the hollow centre is Johnny (Keanu Reeves), a mnemonic courier exposing the fragility of truth and revealing – after psychoanalyst Jacques Lacan – the subject barred from itself.
Released 21 December 2021 | 42 mins
Alternatively, listen to this episode at the philoscifiz website or all podcasting apps. And follow us on Twitter, Facebook, LinkedIn, Instagram, or Tumblr to get notifications of when new episodes drop.