philoscifiz season three coming soon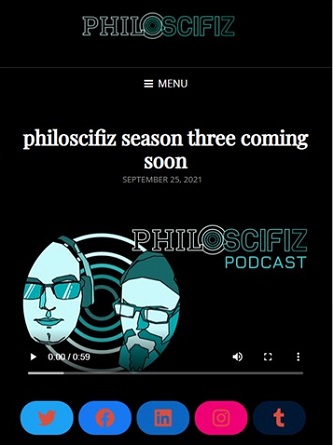 Season three of philoscifiz is in the can, and we'll be releasing the episodes beginning Saturday 2 October 2021.
So, that's another series of six episodes, one a week every Saturday morning (UK time). And six sci-fi movies from the 1950s right up to the present, looked at through the lens of philosophy by myself and my old pal Dr Matthew J. Barnard (Lecturer in Philosophy, Manchester Metropolitan University).
Check out a clip from our first episode at our website… any guesses as to what it may be? Matt chose the film and it was adapted from one of his favourite novels, so just how controversial is Dave's claim on cinematic adaptations?
Follow our page on any of our social channels for notifications and watch out on Fridays for the trailers to watch the films before the episodes drop!
Go to philoscifiz.com to watch the clip and follow on our social channels. Also available on all cool podcasting apps.