Sorry to Bother You (2018) – philoscifiz podcast episode 18 season finale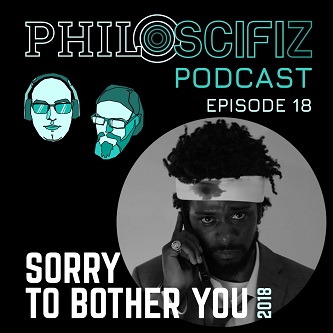 Out now – the autumn 2021 season finale of philoscifiz, an on-screen sci-fi & philosophy podcast I present along with Dr Matthew J. Barnard (Lecturer in Philosophy, Manchester Metropolitan University).
Never look a gift horse in the mouth? What would you do if offered everything you've been told you ever wanted?
We check out Boots Riley's utterly hilarious and deadly serious counter cultural and visually inventive sci-fi dystopia: Sorry to Bother You (2018). So, will Cassius Green stick to the later-than-late-capitalism script?
Find out in episode 18 of our philoscifiz podcast as the present, past, and future of slavery collide amidst worker unions, big tech, performance art, and Hegel's dialectic.
Released 6 November 2021 | 38 mins
Alternatively, listen to this episode at the philoscifiz website or all podcasting apps. And follow us on Twitter, Facebook, LinkedIn, Instagram, or Tumblr to get notifications of when new episodes drop.