Godard, Deleuze, and cineosis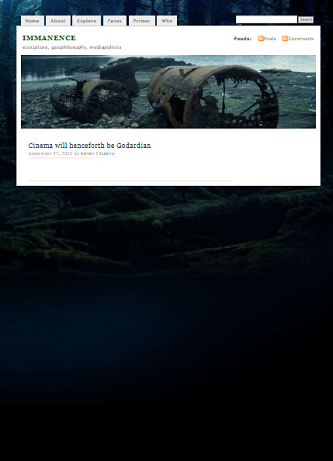 Jean-Luc Godard, one of the greatest filmmakers ever to have lived, passed away this September just gone. In this short article Adrian J Ivakhiv puts the case that 'Cinema will henceforth be Godardian'.
Godard's Weekend (1967) is one of my favourite films, funny, angry, political, questioning, clever. And of course – brilliantly scripted and shot. And the later Histoire(s) du cinema (1989-98) is just mind-blowing, I doubt very much I'll ever fully grasp it, I would love to write about it, but that scares me shitless… trouble is, now I have said that I know I must in my next book. Damn!
Anyhow, Ivakhiv's seemingly bold claim would (on the face of it) appear counterintuitive. Godard's work, from the earliest days to his final film in 2018 sets out – increasingly over time – to undermine mainstream cinematic conventions. Yet Ivakhiv, in a wonderful twist, goes on to say quite different than might be expected – drawing upon, amongst other things, the film philosophy of Gilles Deleuze.
It was nice to be named-checked in this article too, and I loved the way Ivakhiv used my concept of cineosis. What is cineosis? A cinematic semiosis. Cinematic signs – a series of images that resonate with concepts/ideas, sometimes resisting interpretation, sometimes forcing thought, sometimes both at once. Or, if you prefer, cinema as funfair house of mirrors, a labyrinth of images reflecting, distorting concepts and vice versa.
Ivakhiv's article is well worth a read, and also includes a list of essential books on Godard: