Strange Days (1995) – episode 16 of the philoscifiz podcast out now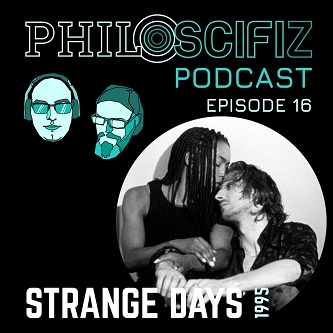 Out now – episode 16 of philoscifiz, an on-screen sci-fi & philosophy podcast I present along with Dr Matthew J. Barnard (Lecturer in Philosophy, Manchester Metropolitan University).
Boot up your SQUID for the millennium, and join Matt and Dave as they tread the streets of Kathryn Bigelow's apocalyptic vision of end-of-days Los Angeles.
Lenny is a sleazy dealer in illicitly recorded memories – Mace is trying to save him, mostly from himself. Together they discover some tapes that will expose centuries of racism and misogyny. A movie as true today as when made.
Content Warning: film and episode explore themes of sexual violence and racist violence.
Released 23 October 2021 | 46 mins
Alternatively, listen to this episode at the philoscifiz website or all podcasting apps. And follow us on Twitter, Facebook, LinkedIn, Instagram, or Tumblr to get notifictions of when new episodes drop.