Jeff Gomez as special guest on philoscifiz episode 12: Arrival (2016)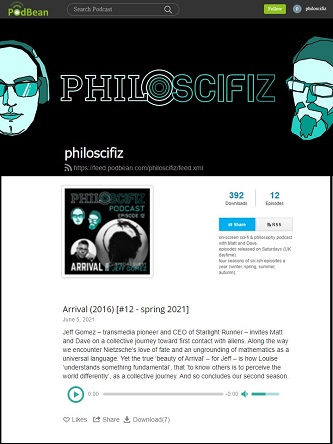 Out now – the final episode of season two of philoscifiz, an on-screen sci-fi & philosophy podcast I present along with Dr Matthew J. Barnard (Lecturer in Philosophy, Manchester Metropolitan University).
In a philoscifiz first, we are joined by special guest Jeff Gomez, transmedia pioneer, CEO of Starlight Runner, and creator of the theory of the collective journey.
And in this episode we all go on a collective journey toward first contact with aliens. Along the way we encounter Nietzsche's love of fate and an ungrounding of mathematics as a universal language.
Yet the true 'beauty of Arrival' – for Jeff – is how Louise 'understands something fundamental', that 'to know others is to perceive the world differently', as a collective journey.
Released 5 July 2021 | 40 mins
Alternatively, listen to this episode at the philoscifiz website or all podcasting apps. And follow us on Twitter, Facebook, and LinkedIn to get notifictions of when new episodes drop.